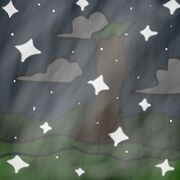 Moondust Pillar was the place where the very first sighting of the
Moondust Fifi
occurred. Before the Moondust fifi was spotted atop the pillar, it was known as Javelin Pillar, and was much lighter and less creepy than it is now.
Javelin Pillar
Edit
During the age of the forgotten, Fifis would come to fight to the death using their weapon of choice. The contestants would be two prisoners and the survivors would be set free. During The Great Foo War, Javelin Pillar was used as a sniping spot for people with bows.
Ad blocker interference detected!
Wikia is a free-to-use site that makes money from advertising. We have a modified experience for viewers using ad blockers

Wikia is not accessible if you've made further modifications. Remove the custom ad blocker rule(s) and the page will load as expected.