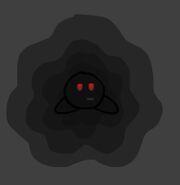 Dark fifis are very gloomy fifis, and tend to live most of their lives in caves, only coming out at night. They are easily sunburned and dislike anything light-related, especially light fifis. Dark fifis tend to hang around Pitchbottom Cavern because it is the darkest and probably most sinister place in all of Zmaria. They also like it because the thought of a dark meteor fills them with (is happy really the word?) thoughts. Dark fifis hate rooms filled with lights and get a sense of feeling small and insignificant when they are in huge rooms, so they use their dark aura to make the room pitch black. This usually continues until a Light Fifi comes along and lights the room up again, which makes the dark fifi snuff it out again, and it goes on and on in a vicious cycle. If you haven't guessed yet, dark fifis have a constant rivalry with light fifis.
Ad blocker interference detected!
Wikia is a free-to-use site that makes money from advertising. We have a modified experience for viewers using ad blockers

Wikia is not accessible if you've made further modifications. Remove the custom ad blocker rule(s) and the page will load as expected.