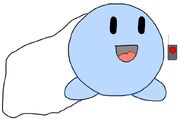 He is the leader of Zmania.
He does not like to go to war unless necessary, unlike the previous leader, Matty.
Overthrow
Edit
When Matty was leader, Badoble was in poverty. Zach found him and built him a house. Zach also gave him a car and a job at a weapons store. One day, Matty drafted every male Fifi in Zmania into the army. Badoble was infuriated. He planned a revolt with ten other Fifis, snuck into Matty's castle overnight, and threw him out of the window.
If going to war, sneak into base and shut down power. Then retrieve hostages and then use explosives.